Custom Orders

We gladly accept custom orders of all kinds. Approximately, 65% of our business is composed of custom orders. All styles can be accomodated from traditional to modern. Most any lumber choice can be sourced no matter how exotic. Each of our pieces is built one at a time allowing unrivaled flexibility for your needs. We can design your custom piece based on photos, measured drawings, or from an idea that you have.
The chair below was originally a custom project built after several conversations with the client and the exchange of a few ideas. Every template for the entire project was drawn by hand in house. No computer programs, pre-made plans or templates were used. The design was drawn out using only a straight edge, a pencil, and a compass to get the correct radius for the arms.
Please feel free to contact us daniel@corbanfurniture.com or by phone at 615-504-9359 to discuss design possibilities and pricing. Should you decide to move forward with a custom piece, a 50% non-refundable deposit is required before construction begins. Lead times vary with the volume of pending orders. We do our best to accomodate any time considerations you may have whenever possible.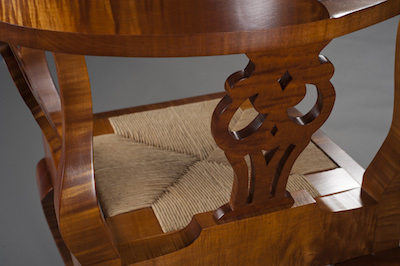 HOME